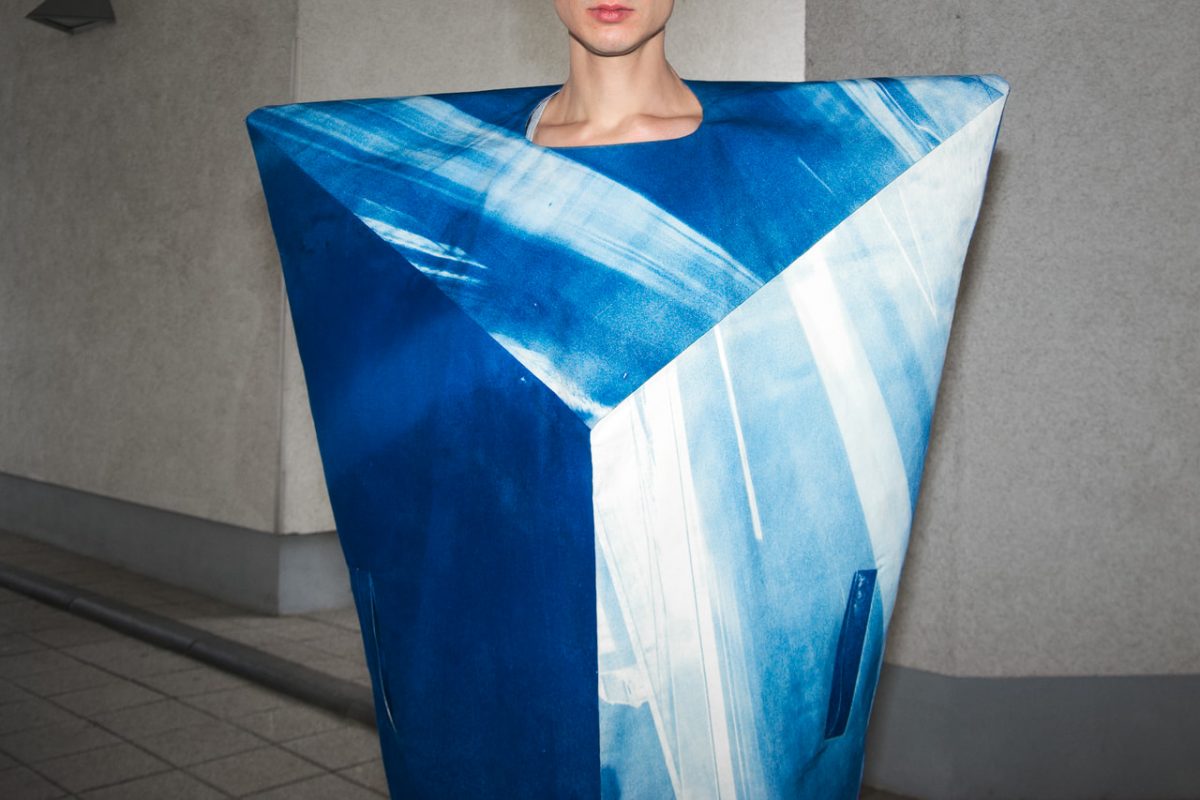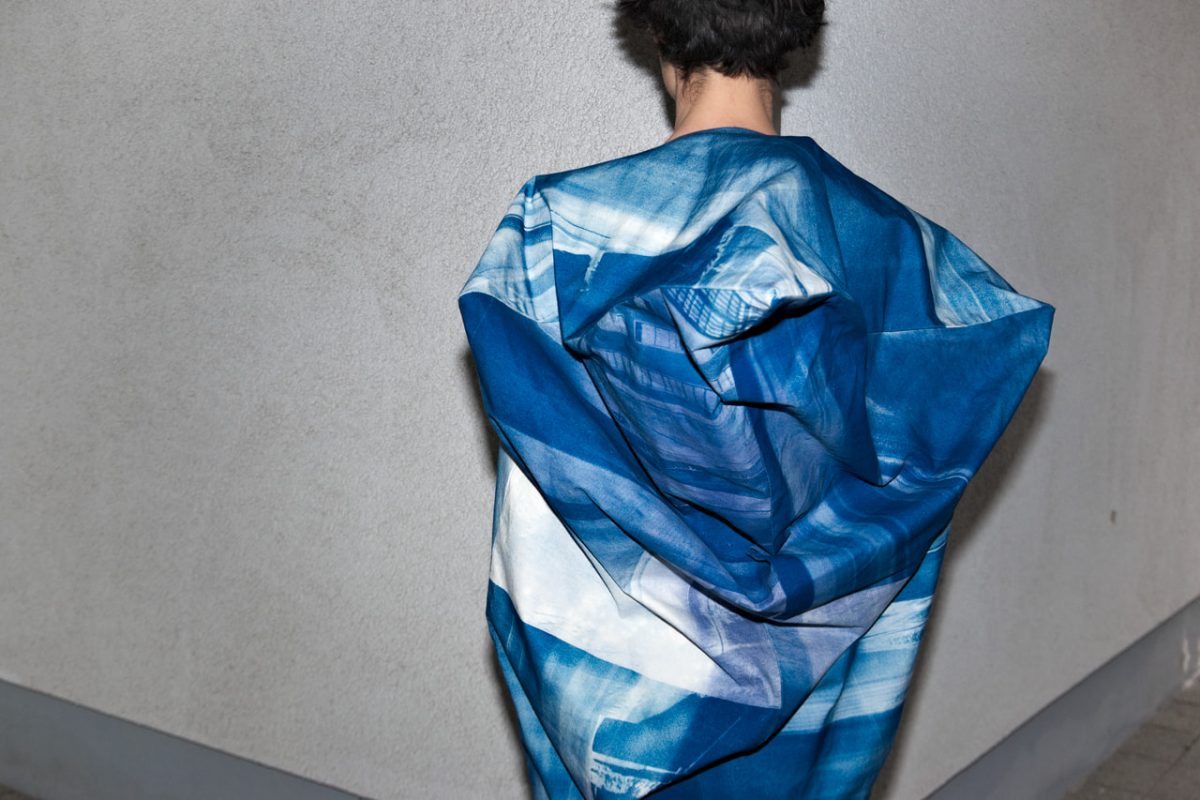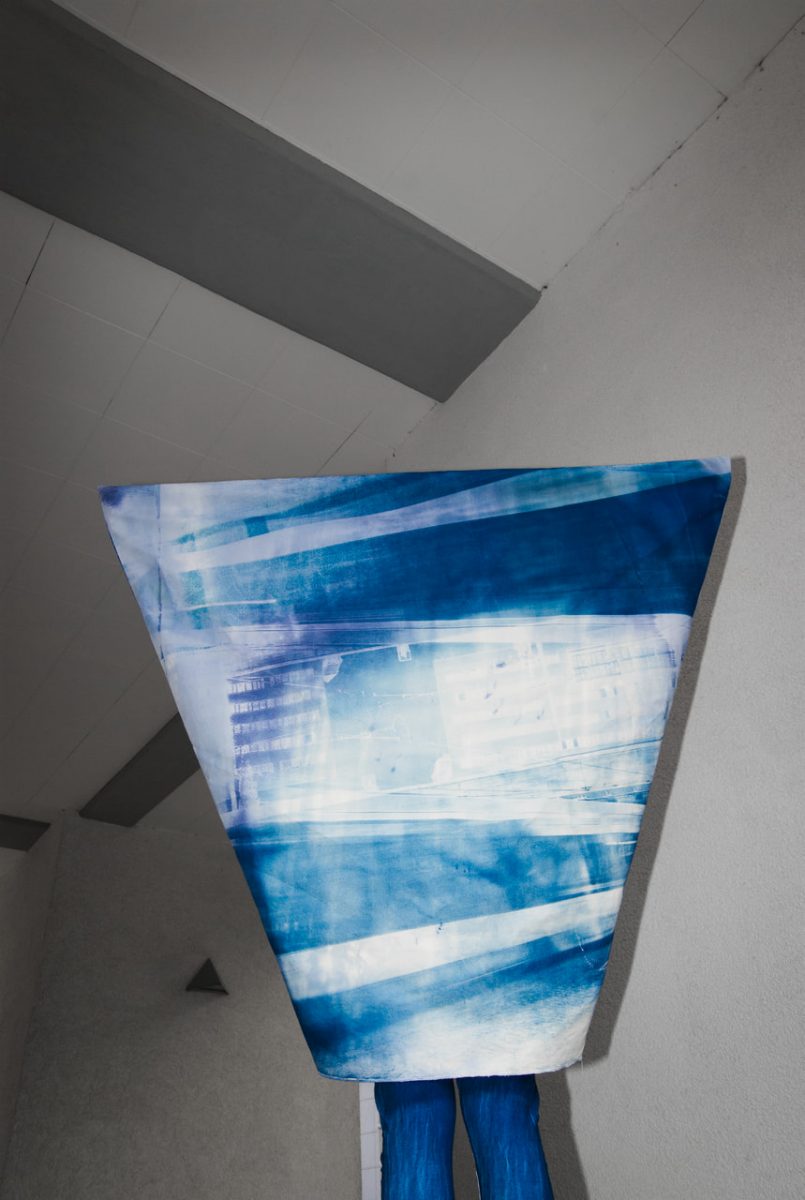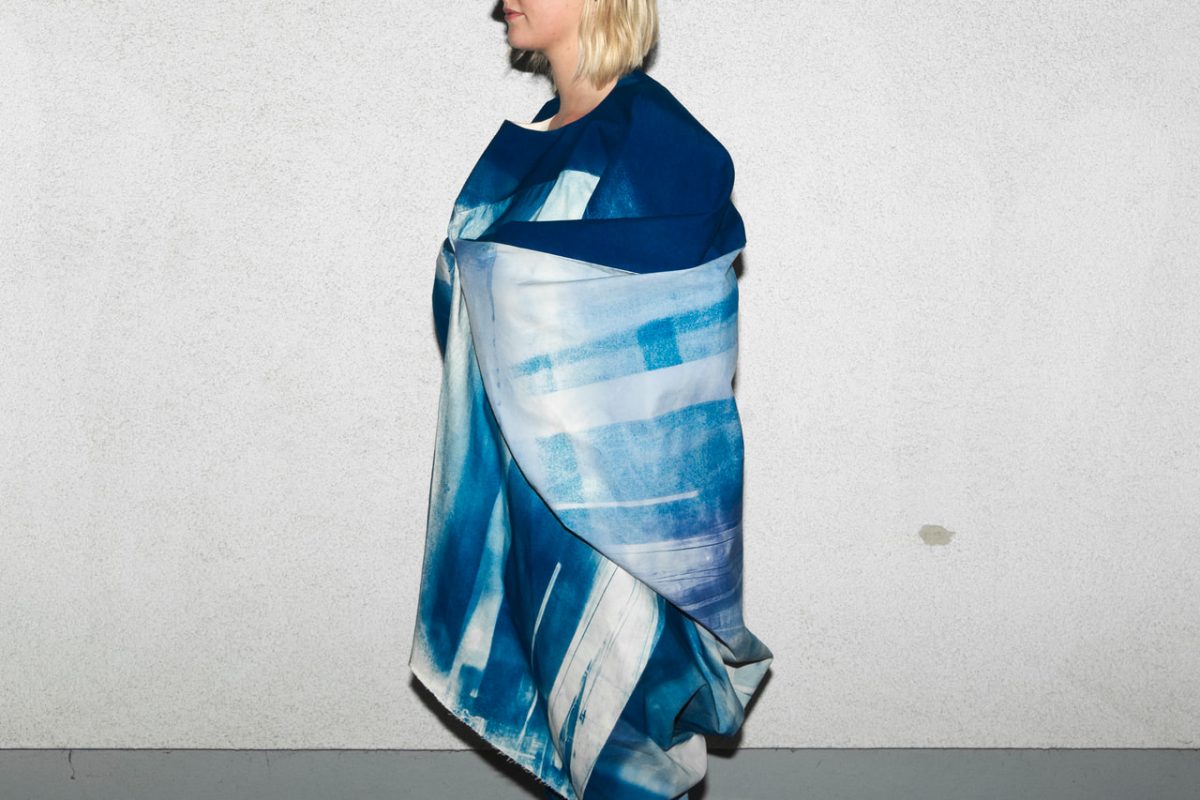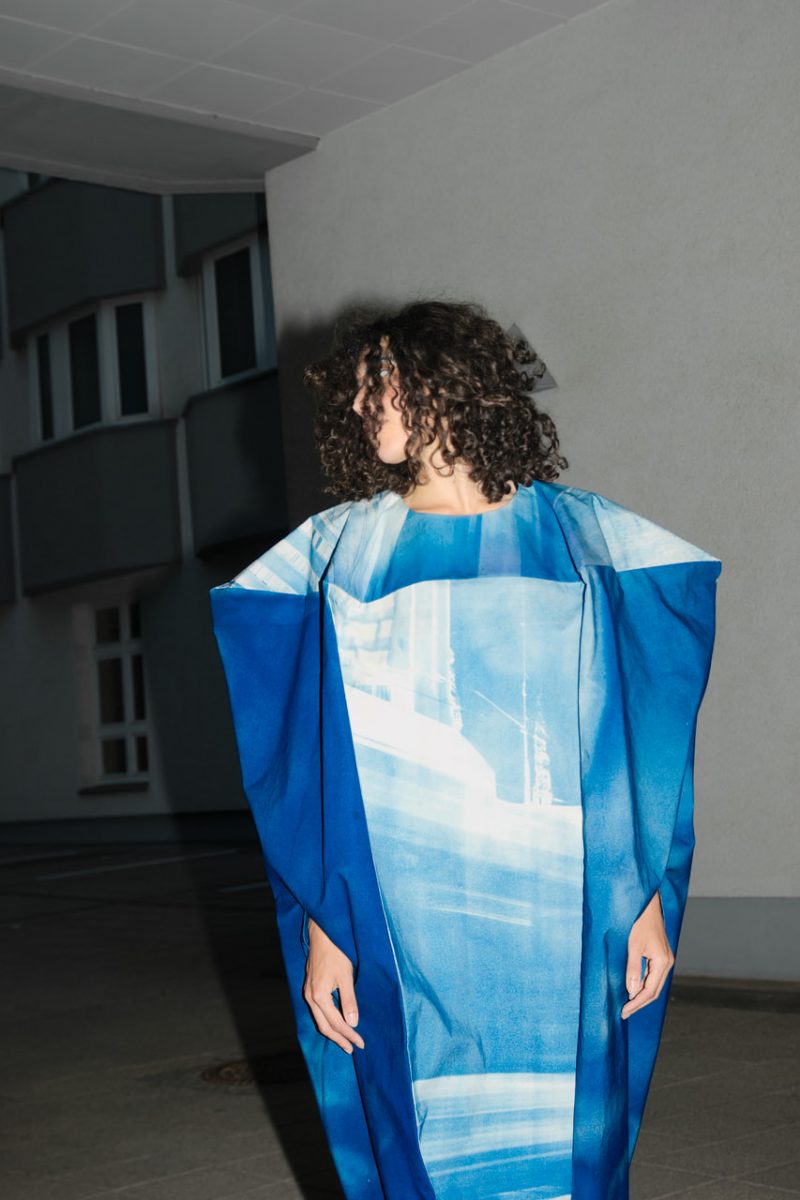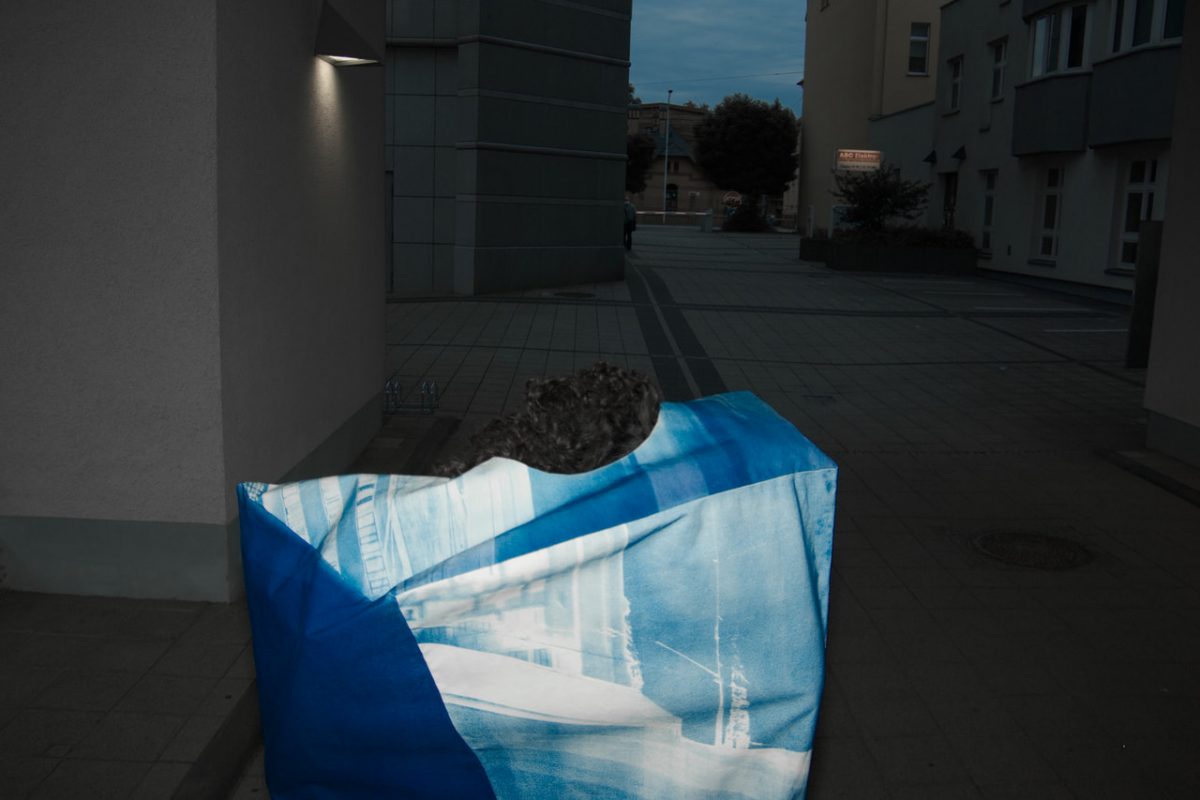 Fotos: Jakob Wierzba
Da mich der interdisziplinäre Austausch reizt, entschied ich mich im 6. Semester ein Gastsemester in der Mode zu absolvieren. Innerhalb des Themas "stop:motion, rastlos" sollte sich mit Bekleidung zum Reisen, mit Reisegepäck und/oder mit Kleidung, die durch Bewegung lebt, auseinandergesetzt werden. Als Quereinsteigerin wollte ich erst einmal weg vom eigentlichen Bild der Kleidung und neue Formen finden, den Körper zu umspielen. So entstanden vorerst steife geometrische Formen, die über den Körper gestülpt wurden. Dazu im Kontrast standen auf Textil gebrachte Fotos mit Bewegungsunschärfe, quasi eingefrorene rastlose Zeit. Als Motive wählte ich Straßenbahnen aus Halle als Symbol für das Reisen. Diese Vorlagen brachte ich mithilfe der Technik der Cyanotypie auf das Material, was eine entschleunigte Arbeit mit willkürlichen Ergebnissen bedeutete – erneut ein Gegenpol der Rastlosigkeit. Im weiteren Verlauf ließ ich die steifen geometrischen Objekte durch die Ausarbeitung in Textil in sich zusammensacken, wodurch wieder neue Gebilde mit körperumhüllender Funktion entstanden, nun an der Schnittstelle zwischen Kleidung und Objekt. Im Rahmen eines semesterbegleitenden Taschenworkshops mit dem Lederatelier Apolda fertigte ich zudem eine Tasche, welche einen Quader in Bewegung darstellt, was eine optische Täuschung erzeugt. Auch hier ein spielerischer Umgang mit der Form. Für die Umsetzung der Tasche entschied ich mich für eine Materialkombination aus Korkleder und "Composite Flax" (Flachsvlies). Das Flachsvlies wurde mir zum experimentieren von der Firma Norafin zu Verfügung gestellt und fand Anwendung als Verstärkung des sonst eher weichen Korkleders.
Fashion design's sixth semester project was titled "stop:motion, RASTLOS" (restless). I am interested interdisciplinary exchange so I decided to take a break from textile design and do a guest semester in fashion. As an "interloper" I steered away from the traditional idea of clothing, towards new shapes to play with the body. A starting premise were rigid objects to cover the whole body – their stiff, geometrical shape contrasting with photos I printed on their textile (sur)faces: blurred motion, frozen, restless time. Halle's trams served me as photographic subjects and a symbol for travel. I adopted the photographic printing process of cyanotype, its slow pace and often unpredicatble results an antipode of restlessness. Gradually, as I fleshed out the geometrical objects in textile, I let them "slump", which yielded new shapes to envelop bodies, now, in turn, at the intersection of clothing and object. During an accompanying workshop on bags in cooperation with the Lederatelier Apolda I made a bag that depicts a cuboid in movement, which turns it into an optical illusion – and another playful approach to form. For the material of the bag I settled on a composition of cork leather and flax composite. The latter was provided by the company Norafin and served well as a reinforcement for the rather supple cork leather.